My brother, Tony, bought a cottage up north recently. I'm very excited for he and his wife, Val: I think they've always dreamed of having one and now it's reality! Tony looked to save money by picking a fixer-upper. The cottage is actually quite lovely – the bigger projects seem to be a new roof, steps/access to the water, and the addition of a dock.
| | |
| --- | --- |
| View of the lake from the roof | Living room |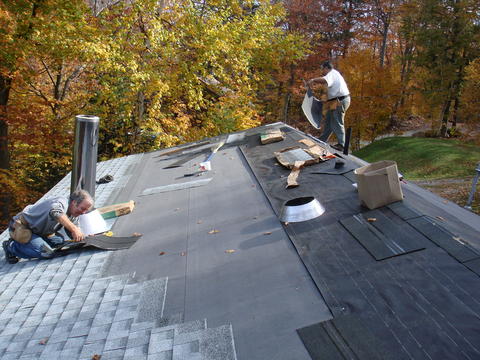 The roof was in pretty bad shape, but with the help of some family members, he was able to get a lot of it done. Reid, the boys and I were invited up for the Thanksgiving weekend. Unfortunately, both Reid and Michael became sick, and couldn't go. I really wanted to see the cottage, so on Sunday morning, I headed up on my own. The plan was to come back home early Tuesday morning.
Tony, my nephew Eric, Eric's friend and Val's brother were hard at work when I got there. The shingles were all off, some underlay material was up on one side and the shingling had started. Everyone broke for a mid-day Turkey meal. Eric and his friend needed to be back in the city on Sunday, so they headed home. That left lots of room for me up on the roof, so I headed up to help with the shingling. I had helped Tony shingle his roof when he first bought his house back in the 80's. I remember that shingling wasn't all that hard.
As the day progressed, it didn't seem we were getting very far. Much like painting, there's tons of finicky prep work that was taking most of our time. By end of day Sunday, only a few rows of shingles were up. By Monday, Val's brother and his wife had to head back home and I'd say we had less than 1/4 of the roof shingled. I was pretty worried about leaving the next morning – I didn't think Tony could get most of the shingling done before Wednesday, when rain was forecast. So I stayed an extra day.
Whew! Did we work hard (although Tony always works hard!) By sun down on Tuesday, we had shingled all we could except for the very top edge, where Tony needed to do some extra ventilation work.
| | |
| --- | --- |
| Roof on Tuesday morning | Roof by Wednesday morning, it's raining! |
When I went woke up to go home Wednesday morning, it was raining quite hard. Boy, it felt good to have the majority of the roof done!
What an amazing Thanksgiving weekend it was. We couldn't have asked for better weather. We saw kids swimming in the lake (in October!!) and someone water skiing. It's a pretty quiet lake. There's no marina, and therefore we expect there aren't going to be very many boats. It's a perfect cottage setting, with stunning views of the lake! I'm so happy for them!
| | |
| --- | --- |
| Site of the future dock | View along the road, on the way home |