It's taken me a long time to post about my trip to Italy. We've been trying to get the more than 250 pictures organized first. And I had hoped to annotate most of them, but that's taking forever, so … here goes!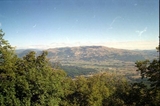 It was an amazing trip. Not at all like a trip you would expect, touring around, etc. For the most part, we stayed in my mom's home town, Incoronata, which is part of a larger town, Macchiagodena. Macchiagodena is located about half way between Rome and Naples, but away from the coast… in the mountains. Half way up a mountain, within the Molise
Molise
mountain range.
Although
Macchiagodena
is a good size, it doesn't have much in the way of shops. They have a bank and bakeries, but no grocery stores (although they do have corner-store type shops), and certainly no clothes, shoe or jewelry shops. I'm quite sure they used to, but they've all moved to the larger cities/towns since everyone drives. They like driving… in fact, they seemed shocked when my mother and I would insist on walking more than a few blocks.
We stayed with my mother's cousin,
Nicola
and his
wife
. His daughter, Angela, son-in-law and grandson were there as well during the first week, as they were on vacation. They were all incredibly sweet, and Angela spent the week driving us all over, visiting people and places.

Incoronata, from my uncle Nicola's balcony.
Here are some highlights from the trip:
The incredible beauty. Everywhere we went, the vistas were breathtaking. Villages and towns dotted the mountains. Many of them quite old and beautiful. Even the ancient, crumbling stone buildings were lovely to look at. They were my favourites, actually.
Getting to know my family better. Although Reid and I met most of my parents' cousins in the late 90s in my first trip, we spent so little time I really didn't get to know them. This time, of course, I got to know them much better, and met many of my second cousins. Everyone seemed to speak the dialect, so I was very pleased to be able to converse well (and I got lots of compliments about it too!). I formed such a deep respect and liking for so many of them I honestly wish I could go back every year.
My mother saying: "Where did all these mountains come from???" I kept telling her they must have grown in the 50 years she's been away. Growing up there, she didn't really notice them. And seeing their beauty now impressed her so much. One of the larger mountain peaks,
Campitello, is a ski resort. We visited one day — up, up, up we went. And then we got to the ski hill, which was yet higher!!
Getting to know a little bit more about my mother and father from everyone. Much to my mother's embarrassment, I got to hear how much of a little hellion she was. But best of all, was hearing folks talk about her parents, who I never met. The older folks spoke about my grandmother's generosity with food and her open-door policy, and how she worked in the farm as hard as any man would. Everyone was very poor back then, but my grandmother had a little more than most because my grandfather was working in the US and sent money home. She died before I was born, and whenever they told my mother how much she resembled her mother, I could see a little flush of pride in her face. Everyone remembered my grandfather. He was very easy-going, and again, was very generous. My aunt would tell me how he would sidle up to her and put some money in her pocket, saying "Shhh, don't tell anyone". I heard others say that about him, too.
We visited my mom's
cousin
in Boiano, a much larger town. (It did have clothes, shoe and jewelry shops!). Boiano is located at the
base of the mountain
, where it's typically much more humid (and the Incoronata/Macchiagodena folks lord it over them for that reason). The air is so different, they have trouble growing some things, like figs. My mother liked making fun of the Boiano accent, a little drawl when their words ended in 'e'. Our Boiano relatives took us up to Civita, a small town
half way up,
the mountain behind Boiano. Many moons ago (more than 5 generations, I think), our Perrella clan came from Civita and settled in the Macchiagodena area. Civita is slowly emptying – very few families living there. More
very old buildings,
there, some of the houses were perched precariously on the cliffs.
We did have one excursion: to the island of Capri through a tour organized out of Macchiagodena. We took a bus to the
port in Naples
, and from there, a boat to Capri. I'd never been to
Naples
and was extremely happy to go because it's where my parents left Italy for Canada (separately — my dad left some years before my
mother and brother
). My father has NEVER been back.
Capri
was astoundingly beautiful.
Sheer cliffs
surround most of the island, with lots of grottos and
interesting rock formations
. The town itself is a jumble of gorgeous buildings, all seeming built on top of one another. It's a very exclusive place: shops were incredibly expensive, and you can tell it's a playground for the rich and famous. And … I got to see
Mount Vesuvius
off in the distance!!

Macchiagodena, from my uncle Antonio's balcony
We had dinner with my
dad's cousin Antonio and his family
a couple of times. Reid and I stayed overnight with them when we visited last time. They have two sons, Felice and Michele. I adore
Felice
, and this time I was so happy to meet Michele as well. I found myself staring at my uncle during dinner, and remembered doing it years ago as well. I couldn't get enough of looking at him. Then I realized why… he reminded me of my grandfather who died when I was 10 (my dad's dad). Not so much in looks as in mannerisms. I mentioned it to everyone, and they all said.. "Ya, we know… he's just like his uncle!!" Wow.
We visited my
great-grandfather's house
in Carapone, a few miles away from Incoronata, where my father was born. It's one of those gorgeous,
crumbling
old stone buildings and I can't quite get enough of it. It's still in the Perrella family, relatives in Australia own it. There's an old inscription above one of the
doors
we were trying to make out. It kinda looks like
"1765"
. Traditionally in Italy (still followed today), the sons remain in their father's home. Their wives move in and the family grows. My great-grandfather had three sons, and with over 20 people in the house, he decided it was time to split the family. He put his son's names in a hat and had one of the children pull a name, and that was the one who stayed in the house in Carapone. My grandfather and his brother moved to Incoronata, and shared an
adjoining house
.
We visited my
Dad's old home
Other highlights were the tours we had of each of my parents' old houses. My father's old home, where my
brother
was born, is actually owned by my mother's cousin,
Petronilla
, now. They kindly took us to every single room, but what was most surprising, was seeing some very old items that were my grandparents' things. They pulled out an
ancient spool
for winding wool. It was very likely made by my father for his mother. The old,
huge wine barrel
was still there in the wine cellar, being used. And I almost cried when they showed my an old,
ancient chest
, saying they had no idea whose it was. It had the initials L and N on it – it was my grandmother's. My mother's house is located in a "Coltillo". That would be an arrangement of houses, clustered together around a little square. There's a little
lane way
that leads
down
to the
group of houses
. Two of her cousins still live in houses there. The present owners of her old home kindly gave us a tour. We knew that this house had been changed very much, and they're justifiably proud of the work they've done. My mother was ecstatic with seeing many of the old rooms. The
kitchen
was changed the least, it's their next project. The old fireplace and oven are still there, and the walls have barely been touched. My mother brought some very old pictures of the house, and you can compare them if you like:
| | |
| --- | --- |
| Ma's house, front. | Ma's house, front circa 1950 |
| | |
| --- | --- |
| Ma's house, back. | Ma's house, back circa 1950 |