1. Early March: Luisa, just leaving CTV and majorly stressed, gets a gift which includes nice smelly bath products. Tries to take a bath, but hot water runs out when tub is only half full. Freezes to death and has a miserable time. 🙁
2. Next day, Luisa calls gas company, asking them to replace the long tuby thing inside (which she knows will fix the problem, from past experience)
3. Next day, gas company guy comes by, pronounces gas tank too old to fix, and on the verge of breaking ("They only last 13 years on average, this one is 21 years old. Notice any rusty water??" That would explain the brown hot water once in a while.)
4. Couple of days later, another gas company guy comes by, refuses to replace the hot water heater because he can't get at it. Decides the only way to get to the damn thing is through the hole where the wood stove is currently sitting.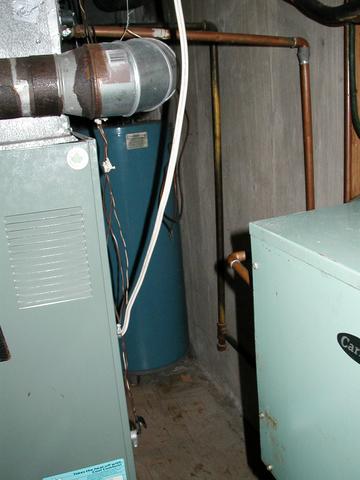 Blocked in water heater
5. Decision to get rid of the wood stove. Reid posts a picture on his web site. Walter generously offers to help us get rid of it the coming weekend.
Wood stove
6. Meanwhile, Luisa asks the new neighbour (a contractor) if he knows anyone who wants it. His friend across the street happens to want one. They come over, decide it's perfect and offer to come over Monday night to get it out.
7. Reid explains to Walter that the neighbour will take it. Monday night, as no one shows up, Luisa knock's on the neighbour's door, who explains he forgot all about it.
8. A week or so goes by, it's now April and the neighbour tells Reid they no longer want the wood stove. Darn.
9. Reid asks Walter if he would be willing to come again. Walter magnanimously agrees, talks to Vartan and they come over last Sunday. David Barker comes over to help as well. Wood stove comes out smoothly. Walter and Vartan do all the work hauling the thing out to the garage for us. They are now my heroes.
Accessible water heater
10. Next morning, Luisa calls the gas company. Same guy comes over that very afternoon and replaces it in less than an hour.
11. That evening (May 17) Luisa finally gets her bath. Yay! (Peanut gallery: I have NOT gone 2 months without bathing.)